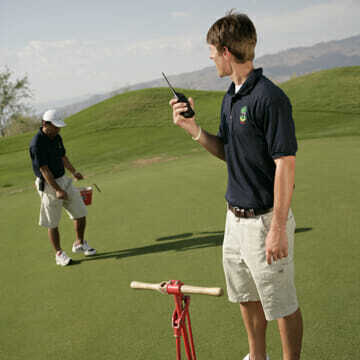 Golf courses present unique challenges for management.  The golf course is effectively a large campus operation with distributed infrastructure.  This means that there are significant distances between buildings which create transportation challenges.  In order to avoid disturbance of the patron golfers, one must avoid making noise while in the vicinity of golfers, especially when they are about to take a swing at the ball.
Radios are essential for use at golf courses to properly manage the property.  The head grounds keeper needs to keep in touch with his/her crew who are spread out over a very large area.  This is an essential activity for the condition of the golf course club house, restroom facilities, snack bars, fairways and greens are essential to the desirability of the course.  Grass needs to be watered, greens need to be manicured, trees need to be trimmed and holes need to be relocated daily along with many other activities to maintain the integrity of the grounds.  Often, the water sprinklers are controlled by DTMF that is sent by radio to activate different watering zones.  Aside from the fact that watering the entire course at one time would prevent all golfers from using the course, it would cause the water pressure to drop to unacceptable levels throughout the facility.  Since the water zone valves are located in different areas of the golf course, a centralized hardwired watering system is generally not feasible, so radio is employed to remotely control the watering systems.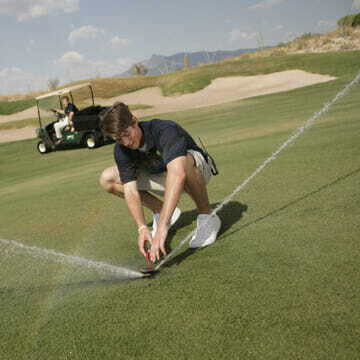 Most if not all country clubs have needs for communications with the club house to coordinate retail shops, food service, the start house, golf club storage, health spa maintenance, tennis court management and maintenance, weight room management, etc.  Some country clubs have hotels on premises which present additional activities that have to be coordinated such as bell service and maid service.  These activities and more require radios to coordinate.
Click here to view an interactive presentation on Communications Solutions for Retail.  There are many interactive features in the presentation by clicking on the arrows.

Most golf courses are not built on flat ground because flat ground presents a golf course that is not very interesting to golfers.  Most golfers like the beauty and challenges of hills, streams, lakes and other terrain features.  It is these features that create unique challenges to using radio, because the irregular terrain blocks the radio signals.  Some golf courses that are reasonably flat can operate without the need for repeaters, but most need to have centralized repeaters to cover the terrain.  As with any other operation, the need for multiple talk groups is common and that means that there needs to be multiple repeaters to provide radio coverage at the property.
Digital radio is often the solution to the problems associated with golf courses.  DMR radios offer the advantage of getting two talk groups from one repeater.  NEXEDGE digital radios offer a solution to coverage issues because the very narrowband digital will get 20% better range than the equivalent analog radio or the equivalent DMR radio, thus solving coverage issues.  Since each property is different, the solution needs to be matched with the challenges offered by the property in question.  Read more…