"We Are Not Your Father's Two-Way Radio!"
The Diga-Talk Network is the most advanced radio system on the market that is available for subscriber use.  The network consists of over 250 NEXEDGE repeaters located at over 70 strategically located sites around Southern California, Eastern Sierras, Nevada, Arizona and Utah to provide the subscriber with unparalleled coverage in the areas demanded by our customers.
Diga-Talk is a highly advanced radio system that has the ability to keep up with the times.  The system has the following features:
Intelligibility with superior digital audio quality
Reliability due to being fault tolerant by design
Flexibility with easy configuration changes
Scalability by being able to expand to meet the needs of our customers
Manageability with readily available fleet management
Durability by being engineered to meet stringent military specifications
Radios play a critical role in managing everything from critical incidents, routing field personnel and coordinating responses to the ever changing world of business, government and public safety.  Communications is the key to being responsive to customers and NEXEDGE technology is key to being able to provide that response in a timely fashion.  To facilitate the goal of providing the best communications service available, Diga-Talk has installed the NEXEDGE system to provide our customers with the best of the best in quality, reliability, products and service.
Our system consists of many tower sites that provide the unique coverage associated with the location.  Each site consists of NEXEDGE equipment plus other equipment to support the continued operation of the NEXEDGE system during normal and adverse conditions.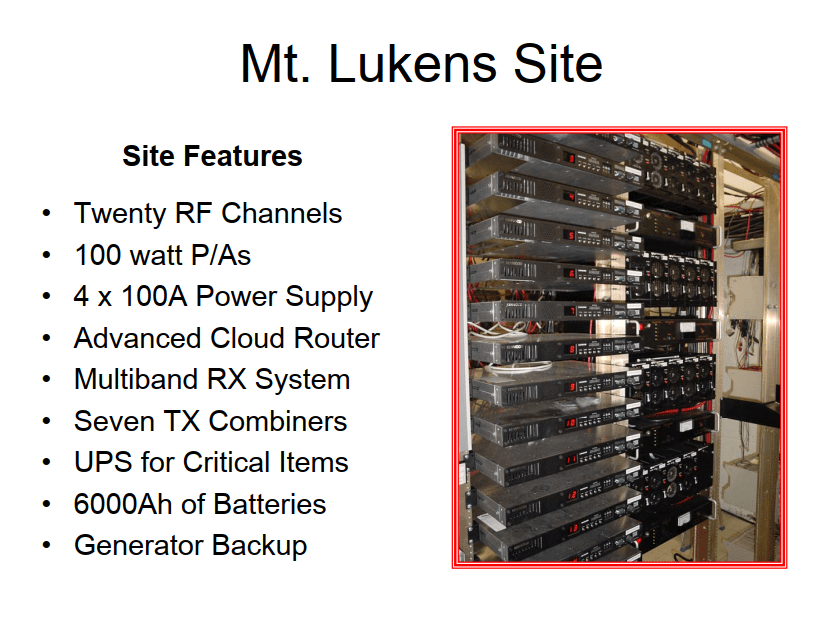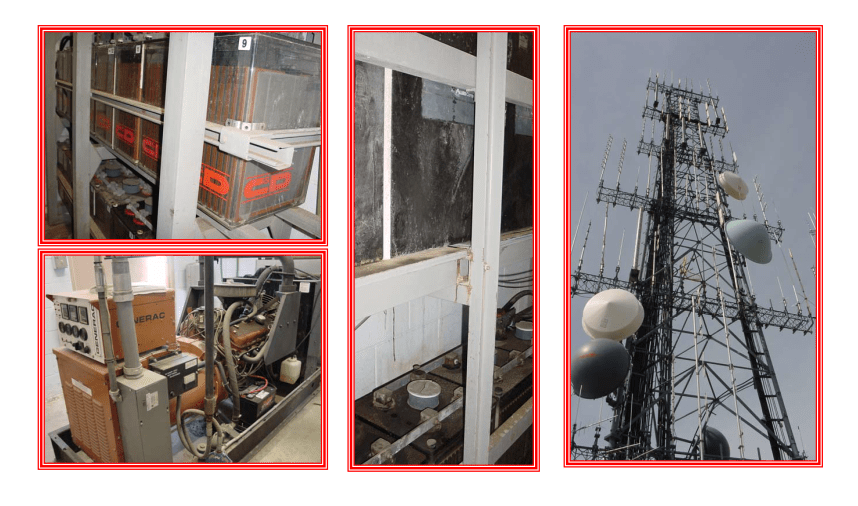 Each tower site consists of many items to make the system provide the exceptional features and coverage that our customers demand.  These include:
Multiple repeaters at each site to provide the system capacity needed at each site so that our customers are able to obtain almost instant access to the system most of the time.
Transmit combining systems to keep from interfering with other radio systems and create unity of signal coverage from one channel of the system to another.
Master receiver systems with proper filtering to keep unwanted signals from interfering with the reception at each of the sites and having uniformity of receive coverage from one channel to another.
Powerful full featured IP routers that give the Diga-Talk network the ability to expand and grow as needed without the limitations of less powerful routing equipment.
Battery backup systems at all our transmitter sites.  All sites have the battery capacity needed to keep the system running through most power outages in the area of the site to eliminate the downtime associated with power outages.  The battery system includes smart battery charging systems to keep the batteries properly charged and to extend the battery life of the system so that it does not fail when the power outage occurs.
Generator backup systems at selected transmitter sites to keep our equipment running through extended power outages.  Our key sites are equipped with generator.
IP links to tie all our tower sites together.  Most of our tower sites include multiple links so that there is more than one way for the network to connect to the site.  This helps to keep the network running without problems when adverse weather causes the links between sites to become unstable or fail entirely.
By carefully engineering each site in our network, we minimize the downtime and maximize the reliability of each site.  This provides the direct benefit to our customers that they will have a network on which they can rely upon daily, weekly, monthly and yearly for reliable communications when it counts.
The following depicts a typical 3 channel system in the Diga-Talk Network:


This system has the ability to handle multiple simultaneous conversations from different subscribers.  In the drawing to the right, there are two different companies who are using the system at the same time.  The gold colored system radios are talking amongst their group while at the same time, the blue colored group radios are talking to each other utilizing a different channel on the site.  The site depicted shows 3 channels which means that the next talk group will receive a busy signal if they attempt to talk before either the gold or blue group stop talking since the 3rd channel is designated as a control channel which is usually programmed to not allow voice traffic.
Not all of the sites contain the same number of channels.  Sites with more traffic such as our sites at Oat Mountain, La Habra and Sunset Ridge have 10 or more channels at the site.  The following depicts a typical 10 channel system in the Diga-Talk Network:

This system typically uses one receive antenna and two transmit antennas.  All the antennas are the same model antennas to provide the same coverage for all the channels.  The original repeaters from Kenwood were 7 watt, necessitating the addition of external power amplifiers with almost every installation as depicted on this drawing.  However, the newer repeaters are 25 watt, thus making the need for external power amplifiers unnecessary in many cases.
Click here to view a presentation on NEXEDGE Advantages Brief.
 Click here to view a presentation on Analog vs Digital.
Click here to view a presentation on NEXEDGE 12 Page Catalog
Diga-Talk Intelligibility
The signals on the Diga-Talk network are loud and clear due to many factors that include the AMBE+2 vocoder which digitizes speech while retaining  more of the natural voice nuances than any of the previous vocoders for two-way radio while providing for significant noise reduction and using forward error correction to be highly resistant to noise.  Along with the digital signal processing, the transmission is converted to a 4 level FSK (Frequency Shift Keying) transmission to give you robust performance under the most adverse conditions.

As the signal weakens with distance or obstructions, analog radio transmissions develop a background hiss, then have noise mixed in with the audio, eventually become intermittent with bursts of static.  NEXEDGE digital improves reception in the fringe areas through the forward error correction and low system noise to effectively reduce the required number of tower sites for radio coverage while effectively providing 30% wider coverage area.

Click here to view the article "How Far Will My Radio Talk?"
Diga-Talk Capacity

The capacity of each site to handle traffic is dependent upon the number of channels at the site.  Different sites contain a different number of channels based upon the average and peak traffic loads at that specific location.  Although we do not guarantee that a busy signal will never occur, we attempt to stay ahead of the loading curve so that busy signals are an uncommon occurrence.  This is due to our use of 6.25KHz technology which allows us to get more than one talk channel from a 12.5KHz channel that is operated by most of the industry.  The Diga-Talk system is highly efficient with the use of the radio spectrum by splitting our channels to 6.25KHz which not only provides better coverage per the discussion above, but also gives us an immense amount of capacity to keep you talking when it is needed the most.  We have more UHF channels than anyone else in Southern California and more exclusive UHF channels in Southern California than anyone else.  So when everyone else is out of capacity and unable to provide additional coverage, Diga-Talk will be expanding its coverage and capacity to keep you talking.
Diga-Talk Architecture
The architecture of the Diga-Talk Network is based upon the design of Kenwood, its creator.  They have a 1st generation system and a 2nd generation system.  Our network consists of both 1st gen and 2nd gen systems.  We started with Gen 1 and expanded the system until we ran out of capacity.  Now, we are converting everything over to Gen 2 so that we can continue to provide more coverage, more features, operate more efficiently and provide a better experience to our subscribers.
The basic network architecture is depicted below.  The network consists of tower sites that are connected via IP connection to all the other tower sites in the network per the figure below.

The central system in the Gen II network is Linux based for reliability.  Linux is well known for being a stable platform for operating mission critical systems of any kind.  This platform enables superior control of networks, peripheral equipment and sites and allows setup and changes to conduct remote monitoring, troubleshooting and maintenance.

The Gen II system has 5 significant advantages over the Gen I system.  These include:
The ability to have up to 1152 sites instead of 48 sites which is 24 times the capacity in terms of sites.
The freedom to add new channels licensed by the FCC without having to go back to all existing radios and add the programming to each radio.
The ability to handle GPS in a far more efficient manner than Gen I.
The ability for a radio to learn everything it needs over the air once the radio has received some basic programming to be able to access the network.
The ability to add, delete, make changes in the network without having to reboot the network for each of the changes.
Each one of the features above is significant enough by itself to warrant changing to Gen II.  All of the above features together make a suite of features that make the change to Gen II a must.  In addition, there are many other features that are new, enhanced or changed that make the Gen II network a revolution in system design and architecture that will provide our customers huge benefits for years and years into the future.
Click here to view a "Coverage Map for the Diga-Talk Network"
Click here to view a "US SMR NEXEDGE Coverage Map"
EQUIPMENT DURABILITY

All NEXEDGE equipment is built to Kenwood's rigorous standards and tested to extreme ruggedness.  Kenwood subjects its equipment during the development and manufacturing process to numerous testing procedures.

Under extreme conditions, the radios are immersed in water, subjected to impact tests, frozen, hit with driven rain and splashing water and dropped repeatedly to verify the integrity of their manufacturing and design processes.

NETWORK RELIABILITY
Each individual site in the network is engineered for reliability.   Battery backup power is at every site with intelligent chargers to maximize battery system reliability.  Links to the site that connect the site to the network are engineered for reliability and are often backed up with a second link that automatically fails over while providing us with an alert to tell us that there is a problem.  That way, we can fix the main link while the backup is in service and eliminating most problems associated with network outages.
MANAGEABILITY
The Gen II network management software reduces our costs of maintaining the system which results in our ability to offer the service at an affordable price.  Features such as being able to grant certain access privileges, call types, call capabilities, setting the class of service, inter-site call capabilities and call queue priority to individuals or groups can all be determined from our control console which can be located anywhere we can obtain an internet connection.  We can see real time activity to troubleshoot customer complaints, download call logs for individual or group traffic, site activity, channel activity and security analysis.
Channel loading graphs are available to see the network activity and determine if more capacity is needed at any site location including blocking statistics.  This allows the determination of where a bottleneck is happening and what needs to be done to eliminate the issue.
Repeaters in the network can be monitored remotely from our Network Operations Center to determine the health of the repeater through the IP network.  Repeaters employ SNMP protocols to alert us to issues before they become network failures.  Network firmware can be remotely updated to bring the latest features to the network as soon as they become available instead of having to wait until a site visit can be arranged.
EXTENDED RANGE WITH MRA AFFILIATES

The Diga-Talk network has more coverage than any other system in Southern California.  However, some customers demand coverage that is not within our network and need additional coverage.  The MRA Diga-Talk network is connected to other NEXEDGE networks via our system bridge.  The bridge connects talk groups between different systems, thus allowing our customers who subscribe to the additional coverage to be able to communicate with their vehicles while roaming within the service area of our affiliate systems.  MRA is connected to systems in the SF Bay area, the San Joaquin Valley and the Phoenix / Tucson areas to provide you with the largest coverage footprint available.
VOICE & DATA SECURITY
The NEXEDGE system includes basic voice security with an 15 bit encryption that provides for over 32,000 codes.  This prevents casual listening by people with radio scanners.  All IP connections from site to site are encrypted with VPN connections to prevent others from being able to invade the network and capture the network data that carries all voice and data communications.

There are optional encryption modules that can be added to the radios to achieve higher levels of encryption including DES which uses 56-64 bit encryption and AES which uses 256 bit encryption to provide for governmental grade security for your communications.  Security features include having the encryption key automatically erase if the module is removed and reinstalled in any other radio.  Also, after 15 attempts to read the radio are made without the correct password, the encryption keys are also erased, preserving the integrity of the secure voice encryption.
AVL and MESSAGE HANDLING

AVL can be handled through the network in different ways.  First, it can be done through a connection through a base station in the dispatch office and displayed via a computer that is connected to the control station and uses KAS-10 software by Kenwood.  Secondly, it can be handled through a direct network connection to the customer computer and displayed on the computer screen via the KAS-10 software.  Output can be displayed in Microsoft MapPoint 2006/2009/2010//2011 or through Google Earth maps with a KML output.  The last method of handing AVL is through the Diga-Talk DataGate which provides a website interface for viewing AVL data.  DataGate messaging also includes the ability to send emails to a mobile or portable radio.  Messages are displayed on the radio LCD screen and reply messages can be sent back to the originating party.  Features include:
NEXEDGE VoIP Dispatch
100 Group Scan with 4 Priority Monitor ID's
NXDN Voice Scrambling
Dispatch Console Window


Voice dispatch can be handled through the same software with many features using at IP based console designed for medium to large operations.  Features include:
IP Gateway connection to the NEXEDGE system
Group, Individual, Emergency, Encryption and Status
Analog / NEXEDGE Conventional Radio Gateway
Patching at Dispatch Console
Network Redundancy & Hot standby provide 99.999% Availability
System-Wide Aux I/O
Supports Distributed Console System Design
SCHEDULABLE STUN/KILL
For high security operations, unauthorized access can be prevented with lost or stolen radios.  A stun/kill can be scheduled with the system management software to disable radios that are in the wrong hands.  When a radio is keyed up, the ESN is constantly checked, so if an unauthorized person is attempting to access the network, a stun or kill command can be sent automatically or manually in the case you want to be able to attempt communications with the lost unit.  Stunned radios can be revived remotely if the lost radio is returned.  Radios that have been killed must be returned to the radio shop for revival.



WIRELESS IMAGING SYSTEM
The ability to monitor still pictures from a remote location is available via the Diga-Talk system.  The monitor station consists of a KVT-11 image recorder and a base station with KAS-11 linked to a NEXEDGE digital transceiver.

Still images are transmitted from the remote camera to the base station computer, which allows the image to be stored and displayed.  Several locations can be simultaneously monitored using 900kb VGA-Resolution Color or B&W images.  Using MPEG-4AVC/H.264 video compression, each image can be transferred in 1.5 minutes or less.
SUMMARY
In summary, the Diga-Talk network is capable of incredible versatility, reliability, durability and performance.  No other network is capable of providing all these features while providing the coverage that is offered.  Contact your sales consultant to schedule a demonstration of the Diga-Talk capabilities.