No other company is more synonymous with two-way radio than Motorola.  When people think of radio, they think Motorola.  Whenever a movie or television show features a scene that involves police, fire, search & rescue or other first responders, it seems like a Motorola two-way radio is featured in the scene.  This goes back to the early days of television when I was a small boy and I would watch the show Highway Patrol starring (William) Broderick Crawford as Dan Matthews, the head of an unnamed police force in an unnamed western state.  When he would grab the microphone from his two-way radio to call into the station using the famous line, "2150 to headquarters." it was a Motorola microphone connected to his Motorola two-way radio.  Headquarters would respond with, "Headquarters by…" at which point Dan would continue with his conversation with headquarters.
This is just one example of the hundreds of movies and shows that utilize almost exclusively Motorola radios.  How did Motorola achieve such a prominent position in the hearts and minds of people who use two-way radios?  Simply by being the industry leader in radio communications for years and years.  It is said that no one will ever risk being fired for purchasing a Motorola radio system because if Motorola cannot make it work, it cannot be done.  (This is similar to the computer industry with IBM where no one is ever fired for purchasing an IBM computer or service which may be an inferior product to another manufacturer but since IBM is the leader, the "group think" attitude is that no one else could have done better.)  People who risk purchasing another brand of radios often will be thanked for their past service if things do not go well according to the original thought processes when the radio system was ordered.  Since the beginning of the commercial use of radio, Motorola has been in the forefront, a leader in innovation and radio technology.  They were the first to develop almost every major innovation in radio which earned them the reputation of being the leader.  Motorola was a stunning success story, one that is rarely mirrored by any other company.  At one time, Motorola controlled between 70%-80% of the two-way radio market through their product innovation and ruthless marketing and sales techniques.  However, throughout the years Motorola has fallen from grace and is now a shadow of its former self.
Let's examine the history of Motorola.
Motorola sprang out of Galvin Manufacturing Company in 1930 when they developed one of the first successful radios for motorcars.  They branded the radio Motorola by combining the idea of "motor" which represented a car motor and "ola" which provided the illusion of sound to give the public the idea of a car radio in motion.  The company was founded by Paul V. Galvin.
Here are some of the Motorola innovations:
In September 1928, Galvan Manufacturing was formed
In 1928, Motorola developed a battery eliminator
In 1930, Motorola developed one of the first successful car radios
In 1930, Motorola started selling one-way radio used by a police force
Motorola sells the first two-way radio used by a police force
Motorola invents the single tone burst to provide selective signaling
In 1935, Motorola introduced a line of car radios that used remote mount radios with a "control head" that was designed to match the instrument panels of most motor vehicles
In 1937, Galvin Manufacturing moved to its first company owned facility in Chicago, Illinois
In 1937, Galvin Manufacturing introduced a line of home entertainment products including Motorola phonographs and radios
In 1939, Galvin Manufacturing introduced a line of low cost AM Police radios
In 1940, Motorola introduced the Sporter radio that allowed people to carry a radio to listen to commercial radio broadcasts
Galvin Manufacturing Corporation (later Motorola) developed the first Handie Talkie SCR536, an AM portable hand held radio that became an ICON for the US military in World War II
In 1941, Motorola introduces the Motorola Playboy, one of the world's smallest  personal radios for listening to broadcast radio
In 1941, Motorola introduces the first radio designed for the US Army Calvary and was dubbed the "Pogo Stick"
In 1941, Motorola introduces the first commercial line of two-way radios
In 1942, Motorola converted 125,000 car radios into home radios which was one of the few radios available during WWII
In 1942, Motorola developed several FM two-way radios for the US Army Signal Corps
In 1944, Motorola developed a new line of two-way radios for taxis
In 1946, Motorola developed the first mobile telephone which was deployed in Chicago and quickly sold out its service to capacity
In 1947, Galvin Manufacturing changes its company name to Motorola, Inc.
In 1947, Motorola introduced the Golden View televisions
In 1951, Motorola invents sub-audible tone squelch which Motorola called Private Line (PL).  This was followed by other manufacturers who developed their own version of tone squelch in which E F Johnson called it "Call Guard", GE called it "Channel Guard" or CG, "Quiet Call" from Ritron, "Quiet Channel" or QC from RCA, "Quiet Tone" from Kenwood, "Electronic Tone Squelch" or ETS from Canadian Marconi Company (CMC) plus many other radio manufacturers had their own name for the selective call system
In 1952, Motorola begins it semiconductor division by manufacturing a new power transistor
In 1955, Motorola introduces the Motorola stylized "Batwing M Logo"
In 1955, Motorola produces its first high power germanium transistor for car radios
In 1956, Motorola offers the first transistorized car radio which was much smaller than the tube radios
In 1956, Motorola introduces the Golden Satellite model of TV with "Transituner" the first fully transistorized remote control for television
In 1958, Motorola introduces the Motrac two-way radio
In 1960, Motorola introduces the Mesa model transistor, one of the world's smallest devices at the time
In 1960, Motorola introduces the world's first large screen Astronaut portable transistorized TV set
In 1962, John Glenn's Mercury spacecraft utilized a Motorola radio receiver to receive radio signals from earth
In 1962, Motorola releases the HT200 portable radio aka "The Brick"
In 1962, Motorola introduced its first integrated circuits using ECL
In 1965, Motorola introduces the 8 track tape player along with Ford Motor Company
In 1966, Motorola developed the smallest TV called the Tiny Tim TV which was powered by 4 penlight batteries and had a 1.125" screen
In 1967, Motorola introduces the Quasar TV with the works in a drawer
In 1969, Motorola introduces the HT220 Handie Talkie portable radio
In 1969, a Motorola radio relays the world's first words from the moon
Motorola established in 1970 the Science Advisory Board Associates (SABA) honoring the company engineers and scientists who demonstrated exceptional innovation.
In the early 1970s, Motorola invents Digital Private Line sub-audible squelch which is a digital version of Motorola's PL.  Motorola was the only company that offered DPL for many years until other manufacturers were able to build their own versions of the DPL system.  This gave Motorola a huge marketing advantage since the system was more reliable than PL and once you purchased radios with DPL, you had to purchase new radios from Motorola to be compatible
In 1972, Motorola introduces MODAT, the first commercial mobile data system
In April 1973, Motorola demonstrated the world's first portable cellular phone
In 1974, Motorola introduces the first MC6800 microprocessor
In 1975, Motorola develops the MX300 series of radios
In 1977, the FCC granted a developmental license for the worlds first cellular system which was developed by Motorola
In 1977, a Motorola transmitter located inside Voyager I transmitted pictures to earth from Saturn over a billion miles
In 1977, Motorola introduced the Dimension IV pager
In 1977, Motorola develops digital voice privacy (DVP) a encryption device for two-way radio
In 1978, Motorola develops the RDX1000, the first handheld portable data radio
In 1979, Motorola develops the worlds first trunking radio system known as Privacy Plus
In 1980, Motorola introduces the new MC68000 microprocessor chip
In 1982, Motorola introduces the Sensar 2 oz pager that was the size of a pen
Motorola sponsors the Ahwatukee Experimental Home in Arizona controlling the environment, entertainment and energy management
In 1983, Motorola develops the KDT800 portable mobile data terminal
Motorola introduced the Dynatac 6000 vehicle mounted mobile phone in 1984 which offered the features programmable keypad, 99 phone number memory and the feature of horn honk to alert the phone subscriber that there was an incoming call when out of the vehicle
Motorola introduced a complete line of cellular telephones in 1985 after being one of the developers of the analog cellular system under contract from Bell Labs
In 1986, Motorola is selected to provide China's first cellular system
In 1986, Motorola introduces the Bravo pager.  By the late 1980s, Motorola is the only U.S. manufacturer of pagers
In 1987, Motorola manufactured its last car radio in Stotfold, UK
In 1990, Motorola introduced the Bravo alphanumeric pager
In 1991, Motorola demonstrated the worlds first GSM cellular system
Motorola transponders were used in the Apollo – Soyuz docking in space
In 1991, Motorola introduced the world's first dual mode cellular phone to operate both AMPS and NAMPS analog systems
In 1991, Motorola introduces the ASTRO two-way radio system
In 1992, Motorola introduced the NewsStream pager which provided email, text messages, financial information and news
In 1992, Motorola introduced the new Confidant pager, the size of a credit card
In 1995, Motorola introduced for world's first two-way pager.
In 1995, Motorola developed the first combined pager and cell phone battery which made it convenient to carry a pager with your cellular phone
In 1995, Motorola introduced the Mariner and Montana modems which provided a computer connection through the cellular phone
In 1996, Motorola develops a new TETRA radio system
In 1999, Motorola introduced the iDEN flip phone handset for use on the NEXTEL digital radio network
Motorola introduces their first GSM cellular phone
In 2001, Motorola introduces the first metal cased portable cellular phone in GSM, TDMA and CDMA
In 2001, Motorola introduced the Timeport 7382i which included GPRS which provided internet access via cellular
In 2001, Motorola semiconductors were the first to combine gallium arsenide onto a silicon chip
In 2005, Motorola develops MOTOMESH, a multi-radio mesh network on 4.9GHz for public safety
In 2006, Motorola introduces the MOTOTRBO TDMA radio system
In 2006, Motorola introduced the Ming cellular phone which used software to recognize over 10K Chinese characters
In 2006, Motorola introduced the MOTO Q with a full QWERTY keyboard
In 2006, Motorola introduced the MOTOKRZR cellular phone, a very slim phone in a metal case
In 2008, Motorola develops the APX series multi-band portable radio
In 2008, Motorola demonstrates its Project 25 interoperability gateways
In 2010, Motorola develops the Global Enterprise Digital Assistant
In 2010, Motorola announces its WiNG 5 WLAN Network
In 2011, Motorola is awarded a contract to build the first public safety broadband LTE radio system
In 2012, Motorola develops the first broadband public safety broadband portable radio LTE device
Motorola had many company business units that focused on different aspects of the communication and semiconductor sectors.  Let's start with the Motorola semiconductor sector.
Motorola started in the semiconductor business in 1952 when they manufactured their first power transistor.  Over the years, Motorola's portfolio grew to manufacture all types of transistors including RF power transistors, signaling transistors, general purpose transistors, voltage regulators, logic chips including DTL, TTL & CMOS.  Motorola became on of the largest manufacturers of semiconductors.  When I was working for a car telephone shop in the early 1970s, we built RF power amplifiers and digital decoders using Motorola transistors and integrated circuits.  It seems like there was little that they did not manufacture.  In the 1980's, Motorola entered the microprocessor arena by manufacturing the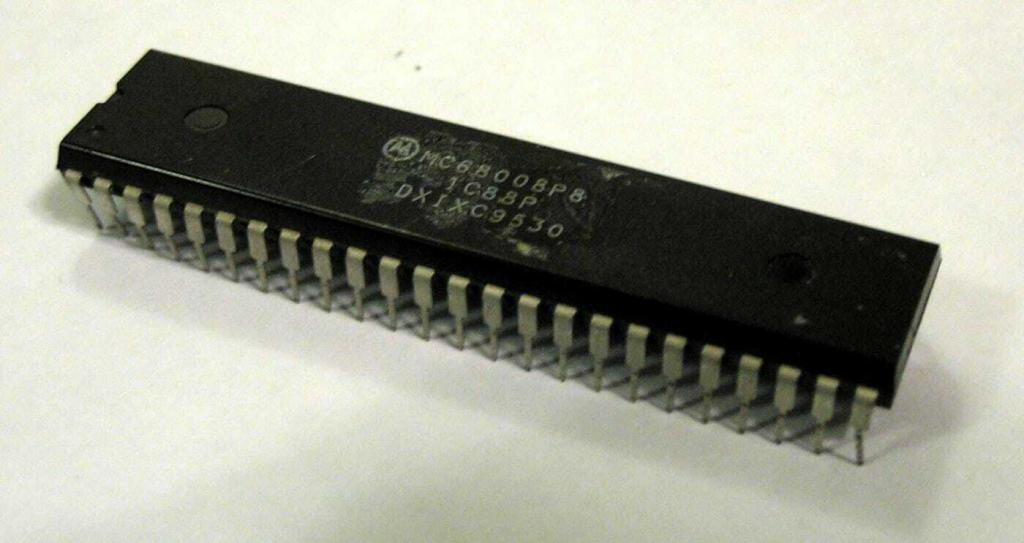 68000 series of chips which were 16/32 bit processors that were used in many of the microcomputers by Atari, Apple, Commodore, Sega, Capcom System I, AT&T, NeXT Computer, Sun Microsystems, Palm, the NASA space shuttle and many more.  In 1994, Motorola ceased development of the 68000 series of microcomputer chips and replaced it with the PowerPC utilizing a RISC structure (reduced instruction set computer) which was developed in conjunction with Apple and IBM.
In late 2003, Motorola decided to spin off its semiconductor sector which created Freescale semiconductors.  The semiconductor sector division represented $5 billion dollars of annual revenue of the $27 billion total annual revenue.  (This was a major reduction in company size which was part of the death spiral that Motorola had been engaged in for many years which we will discuss later.)  The new company was solely focused on the semiconductor market and concentrated in several areas of semiconductor manufacturing including:
Micro-controller Systems Group (MSG) which concentrated on providing chips to the automotive industry.
Networking and Multimedia Group (NMG) which manufactured chips for computer networks, switches and routers along with semiconductors for audio processing, video editing and consumer electronics.
RF, Analog and Systems Group (RASG) which manufactured semiconductors for RF applications, audio applications and other types of systems
Freescale also manufactured the Dragonball series of processors which was a low power version of the older 68000 series microprocessors and also manufactured digital signal processors (DSP) which are used in a myriad of products.
Three years after Freescale was spun off from Motorola, they sold the company to a consortium that consisted of several companies for $17 billion, a handsome profit in just 3 year.  Five years later in May 2011, Freescale went public with an IPO and was eventually investigated for certain irregularities during the IPO process.  This is just one example of Motorola downsizing in its death spiral (as discussed below).  Motorola had many different business units that they divested over the years to keep solvent while its businesses declined.  Motorola's original business plan involved factory direct sales of its two-way radios to the customer while other businesses sold its equipment through dealer distribution models.

The 3 major manufacturers of two-way radio which were Motorola, General Electric (GE) and RCA all had factory direct sales.  One by one, each of the "big three" exited the factory direct model in favor of having authorized dealers.  The first was RCA who went to dealers after firing all their factory direct salesmen.  RCA sold the division to TacTec Systems which became TacTel and eventually disappeared from the radio business.  In recent history, RCA has resurfaced selling two-way radios that are manufactured in China and sold in the US under the RCA name.  GE used to sell their radios factory direct and also had authorized dealers called MRs (Manufacturer's Representative) which also sold the GE radios.  In 1989, GE sold 60% of its mobile radio division to Ericsson and operated under the name GE/Ericsson and eventually dropped the GE to be just Ericsson after GE sold another 20% of the operation to Ericsson in 1992.  In 1994, Ericsson acquired the last 20% of the operation from GE and became Ericsson Mobile Communications.  Ericsson sold the land mobile two-way radio division to Com-Net in January 2000 who operated the division until 2001 when it was acquired by Tyco who operated the company under its MACOM division.  In 2008, Tyco Electronics announced that it was selling its M/A-COM Radio Frequency Components to Cobham PLC, but kept its wireless business and changed its name to Tyco Wireless Systems.  In 2009, Harris acquired Tyco Wireless Systems.  Throughout this entire process, the company moved from having factory direct sales to selling through dealers.
Motorola has its own unique history of corporate restructuring.  Here are some of the significant events:
Motorola uses factory direct salesmen to sell their two-way radios in 1940s
Motorola establishes the Motorola Service Station (MSS) in the early 1950s
Motorola moves to establish Motorola dealers to sell their two-way radios to business, industrial, local government and state government agencies.  Motorola continues to sell to the federal government through factory direct sales
Motorola sells it home entertainment division including the Quasar TV in May 1974
Motorola develops the Radius line, a low tier entry level two-way radio in the 1980s
Motorola sells its factory owned service stations starting in 1995
Motorola sells its community repeater and SMR radio operations in 1996
Motorola sells its radio site business in 1997
In September 1999, Motorola acquires General Instrument in an $11 billion stock swap
Motorola acquires Symbols Technology in 2007
In 2010, Motorola sells networking unit for $1.2 billion to Nokia Siemans
Motorola splits into two companies in 2011, Motorola Solutions, Inc. for land mobile two-way radio and Motorola Mobility, Inc the cellular and video division
Motorola sells its enterprise business unit to Zebra Technologies for $3.45 billion in October 2014
Motorola purchases Airwave UK, the largest network operator in the UK in December 2015
In 2016, Motorola acquires Airwave UK, the largest private operator of public safety radio systems
Motorola purchased Kodiak Networks in 2017, a provider of broadband PTT over cellular
Motorola sues Hytera in December 2017 for patent infringements
Motorola purchased Avigilon in March 2018 for $1 billion
Motorola acquired Plant Holdings Inc in March 2018
Motorola purchased VaaS International Holdings and its subsidiary Vigilant Solutions for $455 million in January 2019
Motorola acquires Watchguard in July 2019
Motorola acquires IndigoVision in July 2020
Motorola acquires Pelco, Inc in August 2020 for $110 million
Motorola acquires Polaris Networks in September 2020
Motorola acquires Openpath Security, Inc. in July 2021
Here are some of the radio models manufactured by Motorola over the years:
| | | | |
| --- | --- | --- | --- |
| APX1000 | DTR720 | P1225 | Talkabout T4800 |
| APX2000 | EVX-S24 | Packset | Talkabout T503 |
| APX3000 | EX500 | PM400 | Talkabout T600 |
| APX4000 | EX600 | PR1500 | U44BBT |
| APX6000 | EX600-XLS | PR400 | VISAR |
| APX6000XE | Flexar | PR860 | VL130 |
| APX6500 | GM300 | R100 | VL50 |
| APX7000 | GP380 | RAZR | VX-2100 |
| APX7000L | HT1000 | RDM2070d | VX261 |
| APX7000XE | HT1250 | RDR4220 | VX-5500 |
| APX8000 | HT1250+ | RDU2020 | XPR3300 |
| APX9000 | HT1550 | RDU2080 | XPR3300e |
| ASTRO Digital | HT1550-XLS | RDU2080D | XPR3500 |
| AXU4100 | HT200 | RDU4100 | XPR3500e |
| AXV5100 | HT220 | RDU4100 | XPR4300 |
| BPR40 | HT700 | RDU4160 | XPR4350 |
| BPR40d | HT750 | RDU4160D | XPR4500 |
| CDM1250 | HT750-LS | RDV2020 | XPR4550 |
| CDM1250LS | HT850 | RDV2080 | XPR5350 |
| CDM850 | LTS2000 | RDV2080D | XPR5550 |
| CLS1110 | LXT630 | RDV5100 | XPR6100 |
| CLS1410 | M100 | RDV5100 | XPR6300 |
| CM200 | M1225 | RMM2050 | XPR6350 |
| CM200D | Magnum | RMU2040 | XPR6380 |
| CM300 | Maxar | RMU2043 | XPR6500 |
| CP100 | MaxTrac | RMU2080 | XPR6550 |
| CP100d | MH230R | RMU2080D | XPR6580 |
| CP110 | Micor | RMV2080 | XPR6580 |
| CP125 | Micor Systems 90 | SABER | XPR7350 |
| CP150 | Mocom 30 | SL300 | XPR7350 |
| CP185 | Mocom 70 | SL4000 | XPR7550 |
| CP199 | MotoTrbo Ion | SL4010 | XPR7550 |
| CP200 | Motrac | SL7550 | XPR7580 |
| CP200S | Motran | SL7580 | XRC9100 |
| CP200-XLS | MSF2000 | SL7590 | XTL1500 |
| CP220 | MSF5000 | SLR5700 | XTN |
| CP240 | MT1500 | SP21 | XTS1500 |
| CP260 | MT2000 | SP50 | XTS2500 |
| CT250 | MTH800 | SP50+ | XTS3000 |
| CT450 | MTM5400 | SVR200U | XTS3500 |
| CT450-LS | MTR2000 | SVR200VBN | XTS5000 |
| DLR1020 | MTR3000 | Syntor | XU1100 |
| DTR410 | MTS2000 | T53GAD | XU2100 |
| DTR550 | MTX1500 | Talkabout 465 | XU2600 |
| DTR650 | MTX800 | Talkabout T100 | XV1100 |
| DTR700 | MTX900 | Talkabout T402 | XV2100 |
| DTR710 | MTX9000 | Talkabout T460 | XV2600 |
Motorola manufacturers more models of radios than any other manufacturer.  Each model of radio is typically offered with more options than any other manufacturer.  Often Motorola has the highest specifications and offers options that are not offered by anyone else.  In many cases, the options operate slightly differently than anyone else which makes it necessary to go to Motorola to purchase additional equipment because no one else will make a radio that operates exactly like the Motorola.  It is a regular occurrence for Motorola to convince a customer that they must have the option that only Motorola can offer to keep the customer trapped into purchasing more Motorola equipment.  This is a regular occurrence with the federal government because Motorola still sells to the federal government factory direct, so they do not compete with anyone else which allows Motorola to take financial advantage over the situation.
This brings us to the big issue with Motorola.  From a product performance perspective, Motorola has been number one for most of the time that two-way radio has been a viable product.  Occasionally, Motorola has made a stinker radio just like every other radio manufacturer.  Most of their products are well engineered and well manufactured.  They are offered with more options than any other source of radio equipment.  However, the politics of the company and their ethics has made them successful at the expense of engaging in ruthless marketing tactics and often boxing customers into a corner for which the customer has had to pay dearly as a result of Motorola taking advantage of the situation.  Motorola administrative, technical, market and sales personnel tend to be indoctrinated into the Motorola "ideology" that Motorola is superior to any other manufacturer and that all others are inferior to anything that Motorola can manufacture or do for the customer.  In some cases, this was true and on other situations, it was patently false, but this did not stop Motorola from propagating the rumor and taking unfair advantage of the customer whenever possible.
I have incredible respect for the accomplishments of Motorola and the products that they have brought to the market.  I have no respect for them as a company from an ethical standpoint.  Motorola sales people have no problem with telling whatever lies, half truth, innuendo, and misrepresentation that is necessary to make the sale.  A good example is how the Motorola factory direct sales people sold the PL (Private Line) feature.  Most customers understood it to mean that they were getting a private frequency when they purchased a Motorola Private Line radio.  In some cases, the salesman did not know any better and thought through ignorance that the Private Line feature made it so that the customer was operating on their own channel.  In other cases, the customer got the wrong impression and the Motorola sales person purposely did not correct the customer's wrong impression.  In other cases, the Motorola sales person simply lied to the customer to make the sale.  As a service technician, I spoke to hundreds of end users over the years that had purchased their radios from Motorola who were shocked to find out that they had to share a frequency because their sales person had assured them that they were getting a Private Line with their radio.

Even though historically Motorola was the first to bring to market any new product in two-way radio, that was not universally true.  When Kenwood developed their new NXDN digital radio network, they had beat Motorola to market with the networking feature and had the ability to handle more sites than a Motorola radio.  They both expanded their network, but Kenwood seemed to keep ahead of Motorola's development in features for the network.  Motorola will often times do business on their reputation and not on their product performance (especially in recent history) but because of the attitude of the public that, "If Motorola cannot do it, it cannot be done!", Motorola tends to get away with a failure to deliver as promised.  This allows Motorola to over promise and under perform while the customer lets it happen and does not complain because of the attitude that no one will ever be fired for purchasing a Motorola radio that does not work properly because they are number 1 in the two-way radio business.  It is said that, "With Motorola, you can buy better but you can't pay more!"  Profit at any cost is Motorola's motive without regard for the ethics of the situation.  This same philosophy permeates most of the company and their dealers which promotes the Motorola team arrogance that has been used to bulldoze over so many Motorola customers over the years.
So the question about Motorola's product line arises time and time again.  Do they make a good product?  Is it reliable and does it last?  For most products, the answer is a resounding yes.  The product is typically solid in its design and construction.  In many cases, it is over designed and overly complicated, but manages to achieve a high level of product integrity.  The problem arises in Motorola's policies that tend to throw their customers to the wolves through a policy of planned obsolescence.  Motorola tends to develop software upgrades to their products which obsolete older products on purpose.  The newer firmware in a radio cannot be read by older programming software and one must purchase the newer programming software.  However, the newer programming software will not work on the older firmware in the radio, thus making it necessary to constantly purchase and maintain new versions of the same software.  To add insult to injury, one often has to purchase firmware updates to the older radios so that all the radios will act the same and are capable of the same features as the older radios.  To contrast with Kenwood, all radios received free firmware upgrades whenever Kenwood develops a newer version of the firmware.  If the newer firmware requires newer programming software, the newer version of the programming software is free and it will program all older versions of the firmware so that only one version of the programming software is required.  Kenwood's subsidiary Johnson Technologies who specializes in the public safety market has a perpetual license policy which allows one to take a software license from an older product and transfer it to a newer replacement product.  If a radio is lost, stolen or destroyed, the software license can be moved to the newer replacement product.  This policy from Kenwood is a complete reversal of the policies that emanate from Motorola.
A good example of planned obsolescence is the Motorola Privacy Plus system.  Privacy Plus was Motorola's first trunking system that was developed and came to market in 1979.  This was Motorola's highest tier product that was sold to thousands of companies across the United States and around the world.  They have completely discontinued all factory support of the product so one cannot purchase any manuals, software, parts or engineering support for their former flagship product that gained enormous product acceptance.  There are still companies using this system and do not want to replace it with a newer product because it serves their needs, but Motorola has purposely made it difficult to continue to operate the system so that the customers will have to buy a newer product.
In summary, Motorola has been the leader in the two-way radio business since the beginning of two-way radio.  They have entered and abandoned many other markets over the years that surround the two-way radio business and radio in general.  Now, Motorola seems to be concentrating solely on the two-way radio business, but continues to maintain their aggressive planned obsolescence policies to force customer to continually pay to upgrade their equipment in order to keep the radio systems running.