Exceptional Service Will Set You Apart From Others
Hospitality have long been users of radios for one good reason, it solves their logistics issues by allowing personnel to find each other as people move around the property.  Most hotels have enough places for employees to work or hide that it is imperative that there is some way to find them.  Radio is THE solution to the challenge.
Using a cellular phone is not a good solution to the issues presented by the hospitality industry because of the following:
The initial cost of smart phones is high and the reliability is low
Cellular phones often need to be rebooted
Missed calls end up going to voice mail which significantly delays message throughput
Cellular phones almost always fail during a major emergency
Cellular systems become instantly overloaded during a major emergency
It takes too long to dial, wait for the phone to ring and receive an answer compared to Push-To-Talk with two-way radio.
Only 2-3 people can discuss an issue at the same time with cellular.  With two-way radio, any size group of people can be part of the same conversation
Two-Way Radio is the solution because coverage is within your control.  By installing a site at your facility, Diga-Talk can provide you with exceptional coverage and allow you to use your radios while away from the property.  Radio systems typically work well over a wide area but do not work well inside buildings or work well inside a building complex but do not work well over a wide area.   No one else can provide you with the best of both worlds with a radio that can work well at your facility and still work well over a wide area.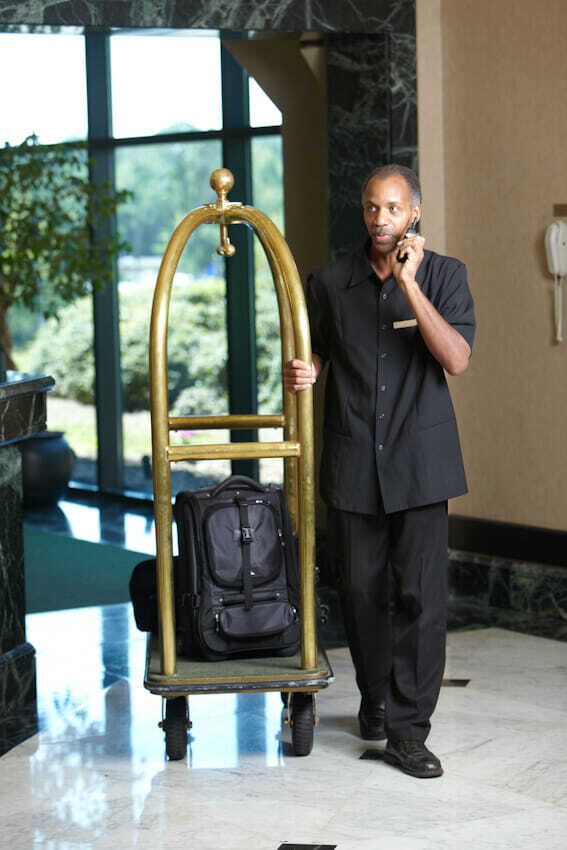 Most hotel operations have a need for more than one talk group.  Front desk / bellmen on one talk group, maintenance on another talk group, maid service on a third talk group, security on a fourth talk group, catering on a fifth talk group, etc.  When the facility is larger than what can be reliably covered with simplex radios, a repeater would need to be installed for each talk group with conventional radios.  This can be cost prohibitive for many reasons and may have significant co-channel interference.  We can provide you with your own system that is subject to all the issues of conventional radio, but it will not work as well as having our Diga-Talk network.
Click here to view an interactive presentation on Communication Solutions for Hospitality. There are many interactive features in the presentation by clicking on the arrows.
Try our Diga-Talk radios with the following great features:
Loud and clear quality audio that can be heard under loud noise conditions with Kenwood's noise reduction technology
Quick access to your personnel – connection time is typically 1.0 second or less
GPS tracking can tell you where your crew are located
Eliminate the distraction and illegal use of cellular while driving
The liability associated with a driver getting into an accident while using a cellular device can cost a company far in excess the cost of a two-way radio system
In larger hospitality facilities, a central dispatch is often required.  MRA dba Raycom has many solutions that will significantly enhance your central dispatch.  Products such as RadioPro which provides a centralized dispatch, add many key features such as call logging and voice recording and can allow your key personnel to access to your radio system from their cellular phone.  Application Focus on Hospitality

Digital radio is often the solution to the problems associated with hotel operations.  NEXEDGE digital radios offer a solution to coverage issues because the very narrowband digital will get 20% better range than the equivalent analog radio, thus solving coverage issues. Call us for a demonstration of what we can do for you.  Since each property is different, the solution needs to be matched with the challenges offered by the property in question.  Read more…