MRA dba Raycom is dedicated to providing our clients with the best quality installations and service.  To insure that goal, we carry an extensive line of parts that are needed at time of repair, assembly and installation of equipment so that the task can be performed in a professional and efficient process.  Not having the parts on hand will significantly delay customer's projects because we are in an industrial business and the parts that we carry are generally not available by walking into most electronic stores.  Even if the parts were available, the time that it takes to go to the nearest store to purchase these parts makes the cost and the time required to complete the task unacceptable.
Most parts that we use to repair Kenwood radios are not available at any parts store.  Items such as mounting brackets, power cables, case parts, antenna connectors, power cables and many other parts are unique to Kenwood radios and are only available from Kenwood.  Below is our parts stock of Kenwood parts.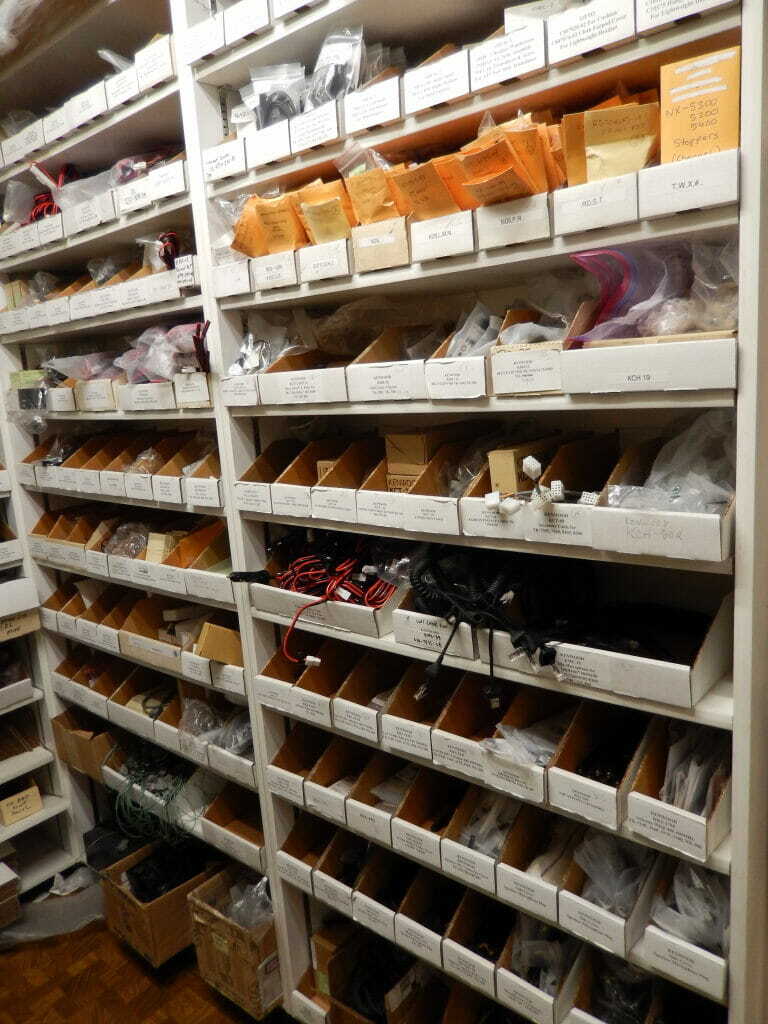 We carry many parts to repair different models of Kenwood radios including case parts, circuit boards, knobs, contacts, switches, controls, keypads, speakers, microphones and hundreds of other parts.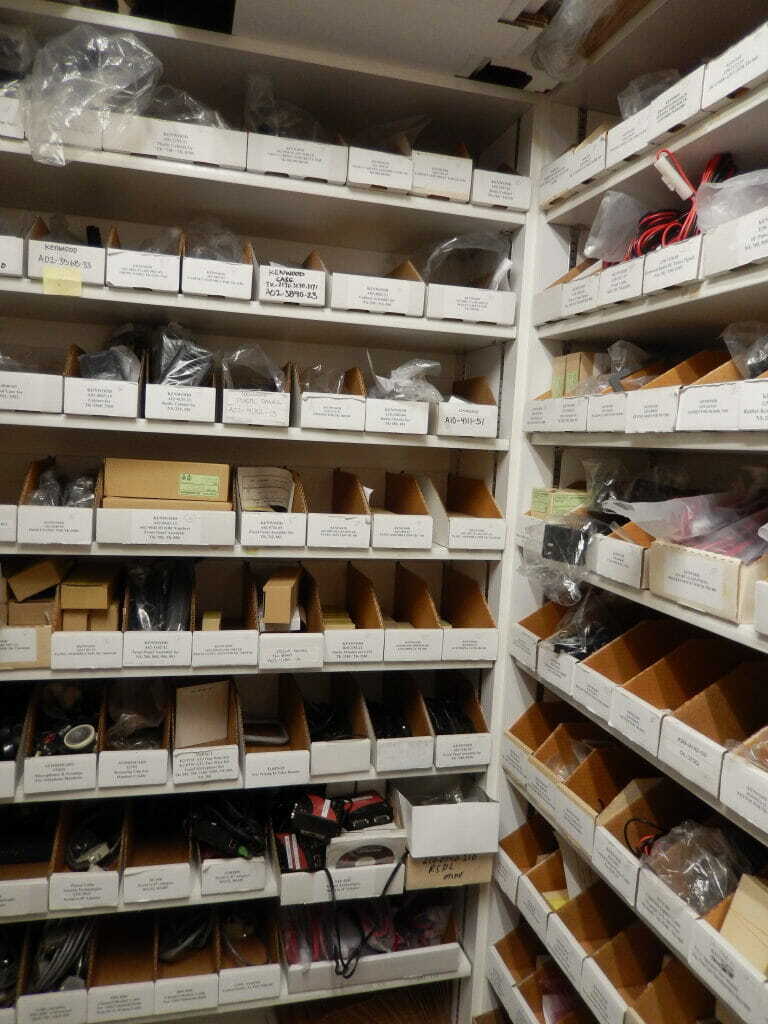 When hooking up RF antenna cables, there are many different types of connectors.  Radio manufacturers use different connectors on their equipment for power connection, antenna connection and accessory connections.  To facilitate being able to adapt one connector to another quickly, MRA dba Raycom carries a large assortment of RF adapters.  Typical use of RF adapters is when a user needs to connect their portable radio to an outside magnetic mounted antenna on a vehicle for a temporary installation.  Portable radios do not always work well while the vehicle is moving due to the metal body of the vehicle acting as a shield to the radio signal.  By using an external magnetic mount antenna, the radio will work considerably better.  Below at the top of the picture is our assortment of RF adapters the convert between BNC, TNC, Type N, UHF, mini UHF, SMA and other series of connectors.  The bins below the two top rows are RF connectors.

RF connectors are used to make antenna cables for tower site work, antenna cables for mobile radio installations, antenna cables for base station installations, interface cables between low power repeaters and the power amplifiers, master oscillator cables, GPS hookups and many other purposes.  Below the picture displays our stock of RF connectors.

When performing mobile radio installations, many parts are used to connect the wires to power connections in vehicles including terminals and splices.  These parts are essential to being able to complete an installation in a timely manner.  Below is a picture of the extensive stock that we carry of those materials.

When we manufacture many cable assemblies, we use heat shrinkable tubing at the connectors, sometimes it is for identification of the cable, other times it is for protecting the connector from damage and sometimes it is both reasons.  We carry an extensive stock of Heatshrink tubing in different sizes and colors to facilitate the manufacture of the cables that are needed for the many different types of jobs that we perform.  We also carry many types of wire and cable that are commonly needed for these jobs.

When installing mobile radios in vehicles, a mobile antenna and mobile mount is required.  The antenna is not an accessory that is provided by the radio manufacturer with mobile radios, so it must be supplied at the time of installation.  Similarly, when a radio is removed from a vehicle and reinstalled in another vehicle, often the antenna is missing, broken or incomplete.  Raycom carries a large stock of mobile antennas, specifically with the wideband feature that is so necessary for use on the Diga-Talk network.

Many types of job that we perform require nuts, bolts, screws, washers, lockwashers and many other types of hardware.  When performing work on radio towers, we use either hot dipped galvanized hardware or stainless steel hardware.  Both types of hardware are significantly more expensive than regular hardware, but are required to perform the job and getting the job done correctly.  Standard hardware will rust while on radio towers which can cause radio interference from the rusting hardware, so standard hardware is not allowed on any of our radio towers.

Radio, microwave linking and networking equipment installation requires hardware in the equipment that sometimes gets lost.  Other times, we build special projects which require the use of hardware while still other times we have to replace missing hardware in radio equipment.  Many of the hardware items we use are specialty items that we have to purchase from the equipment manufacturer, but most of the time we are able to obtain the required hardware from our extensive stock of hardware.

Many of the radios systems we install and maintain have connections to computers for GPS vehicle tracking or computerized dispatch.  Cables to connect to different computer serial ports are needed to mate with the different types of connectors on radios and the different types of connectors on the computer.  Raycom carries an extensive inventory of computer cables for almost any need along with adapters from one type of connector to another type of connector.

MRA uses smart power distribution panels on all of our digital network site plus some other locations.  The panels come without cables and MRA manufacturers the cable assemblies to connect the power distribution panel to all the pieces of equipment.  Below is a picture of the rear of the panels with the main power cables and the power distribution cables.  The picture below depicts 3 different power distribution panels with different cables for the different jobs that are in process.

When we provide communications to the Baker to Vegas race, we use a large number of mobile radios and base stations compared to any other rental.  In order to convert mobiles to base stations, we use a power supply that has the Motorola dual bullet connection.  We manufacture the adapters to connect to the Kenwood radios.  We sell these adapter to other radio shops along with the DC cigarette lighter power cables that we manufacture.  The picture below depicts several adapters that are ready to have the Kenwood power connector installed on the other end of the cable.

When building a new site for our Diga-Talk network, we use a lot of RF cables.  We manufacture these cables from the cable and connectors that we carry in stock.  Below we show 4 cables that have been manufactured here at Raycom.


  For the many cable assemblies we manufacture including power distribution cables and battery interconnect cables, we carry a significant stock of these items so that we can build them as required.  We typically carry finished cables in stock so that we can grab and go as well as the parts to build more of them.

At our tower sites, we provide battery backup to keep the radio systems operating when AC power has failed.  Battery systems require large quantities of batteries to provide many hours of backup and smart chargers to keep the batteries properly charged.  Circuit breakers are required to keep a short circuit from causing meltdown of the system,  Below we show batteries, chargers and circuit breakers that we stock.

We get a lot of calls for installation of DAS systems (see our webpage for DAS systems) at the last minute before walls and ceilings are being sealed.  By carrying the cable, splitters and connectors in stock, we are able to move quickly to take care of the issue before it is too late.  We also carry a large stock of cables for installing antennas on radio towers including the hardware for attaching the cables to the tower.

We carry a large quantity of many other items that are used in two-way radio including microwave antennas, base station antennas, battery systems for BDAs, BDA systems, tower hardware, electrical power materials, grounding equipment, pipe, clamps and lots of other items.
SUMMARY
MRA dba Raycom is fully equipped to install, repair and maintain radio systems, both at the customer's location and at remote tower sites.  Our extensive stock of parts, hardware, batteries, tower hardware and all the other items that we stock provide Raycom with the ability to quickly address the challenges associated with radio systems.