"When your communications are essential"
Want to know how it works? Play the video below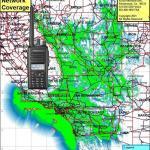 That's right, up to 450 mile coverage! This is not the typical claim of X miles or "Long Range" that you will never see in the real world no matter what you do. We have coverage from the Mexican border to north of Bridgeport in Mono County. We have coverage from the Pacific Ocean to St George, Utah. We have coverage into the Coachella Valley and the Imperial Valley. We have coverage up the coast to Santa Maria. We have coverage throughout central and southern Nevada. How is that possible? A combination of modern technologies can greatly extend the range that two-way radios can reach. This actually works.
Ask for a free demonstration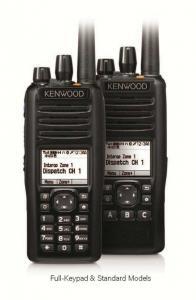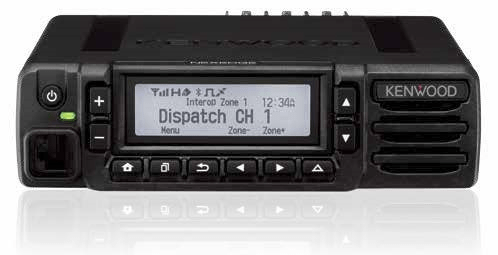 The first new technology is the Kenwood NEXEDGE digital radio. These radios allow communication using a narrower bandwidth which allows better management of radio frequencies and far more exclusive frequencies so that your communications are free from interference. Portable, Mobile and Base Station radios are available, as well as dispatch consoles, remotes, computer displays showing your vehicle locations on a map and many other features. The mobile digital trunked technology allows you to have a virtual exclusive channel so you are not listening to other conversations or waiting to access the network because of other people's conversations. No other users of the network can listen to your conversations and if you are concerned about anyone else eavesdropping on your conversations, the radios are capable of complete privacy with the appropriate options.

The second technology is our Diga-Talk Network which works in a similar fashion to the cell phone network but is designed for dispatching via two-way radio. Once a radio signs up for our Airtime Subscription, like you would do with the cellular phone company for your cellular phone, the radio will log into the Diga-Talk Network so it can talk with any other radio in your talk group, wherever it is located in the network. Each radio logs into the network (depicted above) via the radio site that has good signal in the area where the radio is located and connects to all other radios in the talk group regardless of where the other radios are located. As an example Company A has radios in the area of Site 1, Site 3, Site 4 and Site 5. When anyone talks from company A, the network will broadcast the call over sites 1,3,4 and 5 so that everyone that is supposed to hear the call will hear it. Company B has radios located Site 2, Site 3, Site 4 and Site 6. When anyone talks from Company B, the network will activate sites 2,3,4 and 6 so that all their radios hear the call. Company C has radios located on sites 1, 2 and 4 so the network will connect these sites together for all radios in the talk group for Company C to hear the call. The network covers most of Southern California (more than 450 miles end to end), Yuma Arizona, north along the coast to Santa Maria, and up the eastern Sierras through Bridgeport and soon into Reno, Nevada as well as southern and central Nevada. Through our affiliates, radio coverage is available in Arizona and Northern California. For even more range, we will have affiliate coverage in Utah in the next year or two.
No one else has this two-way radio coverage or can match our signal quality. This is the first time in history that this massive coverage has been available to the business community in the Southern California area. See our coverage below:
Ask for a free demonstration

Our coverage is unparalleled! Our network and reliability surpass our competitors. Our signal quality is based on the renowned Kenwood NEXEDGE technology, known for its excellent audio quality.
Upgrade from your outdated radio system with limited coverage and features to the unparalleled network of the ultimate two-way radio, the epitome of modern communication technology. This state-of-the-art system has revolutionized the way people communicate, offering a myriad of cutting-edge features that will take your communication capabilities to new heights. With its advanced technology, this ultimate two-way radio ensures seamless and reliable connectivity, even in the most remote areas. Say goodbye to the frustration of dropped calls and static-filled transmissions that plagued your outdated system. This modern marvel guarantees crystal-clear communication, eliminating any barriers that may hinder effective communication. One of the standout features of this ultimate two-way radio is its extended coverage range. While your outdated system may have had limited coverage, leaving you disconnected in certain areas, this upgraded system expands your reach, allowing you to communicate with ease over vast distances. Whether you're in a bustling city or exploring the great outdoors, this radio will keep you connected, ensuring that important messages are transmitted without fail. Not only does this cutting-edge system excel in coverage, but it also boasts an array of features that make communication effortless and efficient. With advanced noise-canceling technology, background noises are filtered out, ensuring that your messages are heard loud and clear. This feature is particularly beneficial in noisy environments such as construction sites or crowded events, where clarity is crucial. Additionally, this ultimate two-way radio offers enhanced battery life, providing you with extended usage time without worrying about constant recharging. The last thing you need is for your radio to die in the middle of an important conversation or emergency situation. With this upgraded system, you can have peace of mind knowing that your communication device will last as long as you need it to. Furthermore, this modern marvel is equipped with a GPS tracking system, ensuring that you and your team can be easily located in case of emergencies or if you require assistance. This feature can be a lifesaver in situations where time is of the essence, enabling swift and accurate response in times of need. In conclusion, it's time to bid farewell to your outdated radio system and embrace the immense capabilities of the ultimate two-way radio. With its cutting-edge features, unparalleled reliability, and outstanding performance, this modern communication system will undoubtedly elevate your communication experience. Stay connected like never before, no matter where life takes you, and enjoy the seamless, crystal-clear communication that this ultimate two-way radio provides. Upgrade now and step into the future of communication.
Ask for a free demonstration