"When your communications are essential"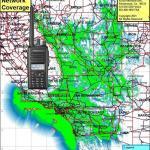 That's right, up to 450 mile coverage!  This is not the typical claim of X miles or "Long Range" that you will never see in the real world no matter what you do. We have coverage from the Mexican border to north of Bridgeport in Mono County.  We have coverage from the Pacific Ocean to St George, Utah.  We have coverage into the Coachella Valley and the Imperial Valley.  We have coverage up the coast to Santa Maria.  We have coverage throughout central and southern Nevada.  How is that possible?  A combination of modern technologies can greatly extend the range that two-way radios can reach. This actually works.
Ask for a free demonstration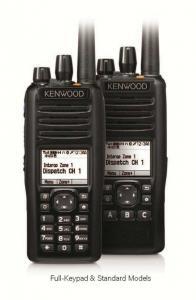 The first new technology is the Kenwood NEXEDGE digital radio.  These radios allow communication using a narrower bandwidth which allows better management of radio frequencies and far more exclusive frequencies so that your communications are free from interference.  Portable, Mobile and Base Station radios are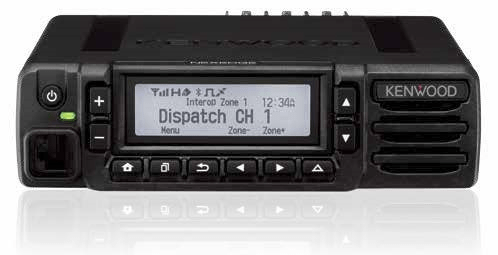 available, as well as dispatch consoles, remotes, computer displays showing your vehicle locations on a map and many other features.  The mobile digital trunked technology allows you to have a virtual exclusive channel so you are not listening to other conversations or waiting to access the network because of other people's conversations.  No other users of the network can listen to your conversations and if you are concerned about anyone else eavesdropping on your conversations, the radios are capable of complete privacy with the appropriate options.
The second technology is our Diga-Talk Network which works in a similar fashion to the cell phone network but is designed for dispatching via two-way radio.  Once a radio signs up for our Airtime Subscription, like you would do with the cellular phone company for your cellular phone, the radio will log into the Diga-Talk Network so it can talk with any other radio in your talk group, wherever it is located in the network.  Each radio logs into the

network (depicted above) via the radio site that has good signal in the area where the radio is located and connects to all other radios in the talk group regardless of where the other radios are located.  As an example Company A has radios in the area of Site 1, Site 3, Site 4 and Site 5.  When anyone talks from company A, the network will broadcast the call over sites 1,3,4 and 5 so that everyone that is supposed to hear the call will hear it.  Company B has radios located Site 2, Site 3, Site 4 and Site 6.  When anyone talks from Company B, the network will activate sites 2,3,4 and 6 so that all their radios hear the call.  Company C has radios located on sites 1, 2 and 4 so the network will connect these sites together for all radios in the talk group for Company C to hear the call.  The network covers most of Southern California (more than 450 miles end to end), Yuma Arizona, north along the coast to Santa Maria, and up the eastern Sierras through Bridgeport and soon into Reno, Nevada as well as southern and central Nevada.  Through our affiliates, radio coverage is available in Arizona and Northern California.  For even more range, we will have affiliate coverage in Utah in the next year or two.
No one else has this two-way radio coverage or can match our signal quality.  This is the first time in history that this massive coverage has been available to the business community in the Southern California area.  See our coverage below:
Ask for a free demonstration

Our coverage is second to none!  Our network coverage and reliability outshines our competition.  Our signal quality is based upon the Kenwood NEXEDGE technology which is renowned for their fantastic audio quality.
Stop dealing with your old radio system with its limited coverage and features.  Come up to the ultimate in two-way radio with a network that is second to none.  This is not your father's two-way radio system!  It is completely new, designed for features, reliability and performance.
Ask for a free demonstration